D a v í ð &nbsp B r y n j a r &nbsp F r a n z s o n
d a v i d . b r y n j a r @ g m a i l . c o m
Davíð Brynjar Franzson is a freelancing composer based in New York.

Recent projects include the release of the Negotiation of Context by Yarn/Wire on WERGO, recorded at EMPAC; longitutde, a new installation based chamber opera in collaboration with the reykjavik based artists Halldór Úlfarsson and Angela Rawlings, the New York based film-maker Davyde Wachell, and the Berlin based Ensemble Adapter; and on Matter and Materiality for solo cello and orchestra, for Severine Ballon, Ilan Volkov. and the BBC Symphony Orchestra.

Davíð co-runs Carrier Records--a label for new and experimental music--with Sam Pluta and Jeff Snyder.
Out now on WERGO--the Negotiation of Context, performed by
Yarn/Wire
,
recorded at
EMPAC: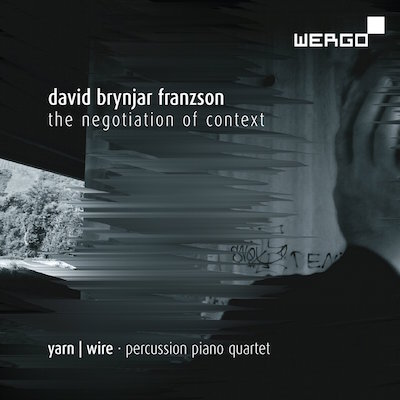 Described as
sonic art that is clearly going places
(Gramophone),
convincing
(the
Wire), and
You'll never quite look at a piano the same after hearing this remarkable
work.
(5:4).
available via
iTunes
or as a hardcopy via
Amazon
.